This weekend, Snapchat CEO, Imran Khan announced a surprising game changer in the tech industry. He stated "We are bigger than just one app and the biggest misconception that I hear about Snapchat is that it's just another social media company".  This common misconception led to the his executive decision to re-brand the name to "Snap Inc".  The company will now be entering the market of cameras releasing their first product in the fall. Spectacles.
Here's everything we know so far:
https://www.youtube.com/watch?v=XqkOFLBSJR8#action=share
Introducing a new addition to the smart glasses industry…
The reactions have been extremely positive of those who have been lucky enough to try this product already, one said,
'When I got the footage back and watched it, I could see my own memory, through my own eyes — it was unbelievable, I could see my own memory, through my own eyes."
Here's what we know:
So what are spectacles?
They're a stylish pair of sunglasses equipped with a camera to capture everything you're seeing. They connect directly to Snapchat, allowing you to send circular 10 second videos directly to your friends. The video will be able to play in full screen, and in any orientation, on any device. Snap Inc. stated, the glasses will capture the human perspective with a 115 degree field of view.
Colors?
The glasses will come in 3 colors! Teal, Coral and Black.
Price?
Although the CEO categorized the product as a "toy", we're hoping the product offers a little more with its steep price tag of $130.
Competition?
The spectacles will enter the same market as Google Glass and the Go pro.
Release date?
Fall of 2016! (This may just be the next best thing to a Pumpkin Spice Latte)
And finally… if you were wondering, no you cant take a selfie…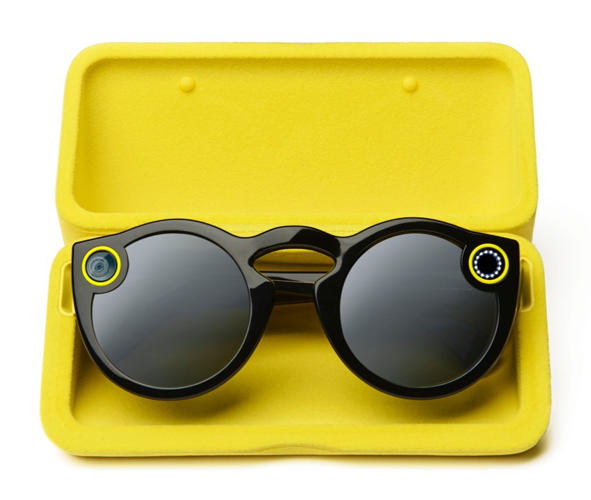 So let us know, will we see you rocking a pair of these fashion forward spectacles this fall?
Follow the author on Twitter: @Colleenms98